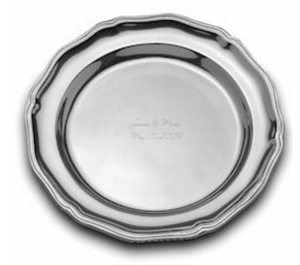 Queen Ann Invitation Platter
This Elegant Queen Ann Platter makes the perfect invitation platter or corporate award for a unique keepsake or gift that will be treasured for life. It is made of recycled Pewter Alloy is 14" Round.
We will duplicate the layout of the wedding invitation, logo, or corporate award text on the center of the platter and send a proof prior to engraving.
Please email a copy of the invitation or logo to: info@idoengravables.com
---
We Also Recommend